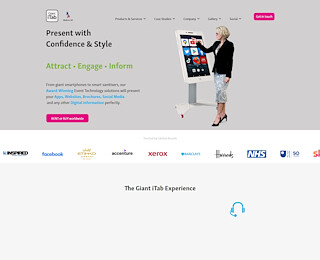 What exactly is all the fuss about Big Smartphones about? If you're a business owner, there's plenty of fuss to be made about these products. Giant iTab offers a suite of options for corporations that attend trade shows and expos, as well as business owners looking for a better connection with their potential clients.
Are you tired of spending more and more money on trade show booth products designed to get attendees to stop in your booth? You've probably discovered already, bigger doesn't always mean better- unless you happen to be in the print business. Print companies have a very savvy way of making companies feel as though they have to purchase the latest and greatest booth displays in order to engage passers-by. If your annual investment never seems to pay off, it's time to switch up your game and give your show attendees what they really want.
Big Smartphones are all the rage- and Giant iTab carries the most popular sizes, including their 23" Tabletop model, their 27" Kiosk model, their 42" Giant model and even the 55" Showcase model, all designed to meet your needs in a very unique way. We invite you to visit the GiantiTab.com website and click on the 'Touchscreen Solutions' link at the top of the home page. Select the appropriate size from the drop down menu to read more about each available option.
If you're looking to pull more passers-by into your booth, we highly recommend the Tabletop 23" oversized iPhone that functions in every way the same as your customers' mobile devices do. For brand and product presentation, customer engagement and interactivity, nothing is quite like the 23" iPhone.
The 27" Kiosk model is quickly replacing receptionists at hotel lobbies and office settings for businesses that are interested in saving money without compromising on the customer experience. This model can be positioned on a podium, on top of a counter or on a desktop to encourage guests to find their information quickly and easily through engaging on the Tablet. For the security of your guests, the 27" model comes with optional features that include full surround for PC privacy and security, as well as a built-in camera for use with Photo Booths, Instagram or Snapchat.
The Viewpoint is a unique 42" iPhone that has the power to draw attention in any location it is positioned in. These Big Smartphones are versatile, offering a wide range of uses for your brand or product presentation. Use to present photo galleries of products, for an amazing gaming experience, for PDFs and brochures, Powerpoint slides and so much more. Contact an agent from Giant iTab to see all of the available options in sizes.
Big Smartphones transform ordinary trade show booths into extraordinary areas of special interest. Just wait to see the line of excited clients gathering around your booth to find out more about who you are and what you do within your community. Use the Giant iPhone to engage with your customers like never before!